Congress' Approval Drops to 18%, Trump's Remains Steady
Written by LoneRhody on 08/01/2020
Congress' Approval Drops to 18%, Trump's Remains Steady
Via Gallup:
WASHINGTON, D.C. — After hitting 20-year highs in April and May, Americans' approval of Congress continues its downward slide to 18%. The last time congressional approval was below 20% was in September 2019.

The latest reading is from a Gallup poll conducted July 1-23 as coronavirus cases in the U.S. continued to spike, and Congress worked to negotiate another economic relief package. Congress' heightened approval ratings in the spring came on the heels of the first relief package, which was well-received by majorities of Americans across party lines.

While partisans' approval ratings of the legislative branch have declined by double digits since May, Democrats' approval has fallen the most — from 39% to 20%. At the same time, Republicans' approval has dropped from 24% to 14% and independents' from 32% to 21%.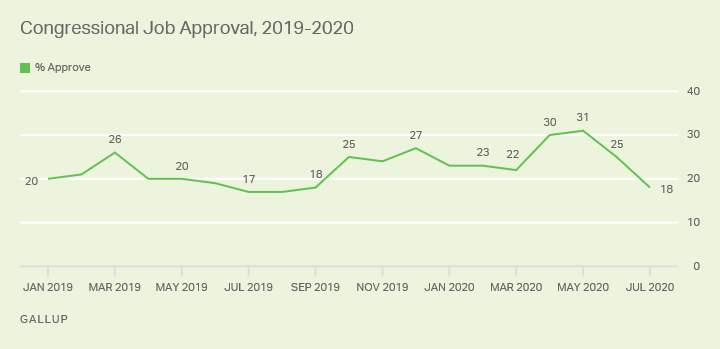 As Americans' approval of Congress drops, President Donald Trump's approval rating has been steady near 40% in June and July. Still, the current 41% remains well below the 49% earlier this year when the economy was in good shape, and Trump was enjoying a post-impeachment bounce.

The 87-percentage-point gap in Trump's approval rating between Republicans (91%) and Democrats (4%) remains among the highest measured by Gallup, exceeded only by the 89-point gap in June.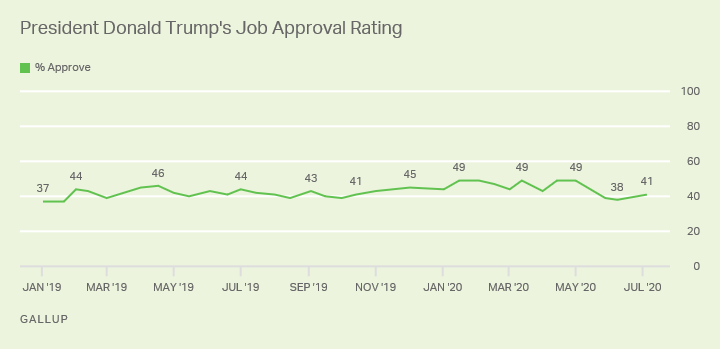 What Is The Crusade Channel?
The CRUSADE Channel, The Last LIVE! Radio Station Standing begins our LIVE programming with our all original CRUSADE Channel News hosted by 28 year radio ace, Stacey Cohen. Coupled with Mike "The King Dude" Church entertaining you during your morning drive and Rick Barrett giving you the news of the day and the narrative that will follow during your lunch break!
We've interviewed over 200 guests, seen Brother Andre Marie notch his 200th broadcast of Reconquest; the The Mike Church Show over 900 episodes; launched an original LIVE! News Service; written and produced 4 Feature Length original dramas including The Last Confession of Sherlock Holmes and set sail on the coolest radio product ever, the 5 Minute Mysteries series! We are the ONLY outlet to cover the Impeachment of President Trump from gavel to gavel!
The Crusade Channel is an open forum for the great thinkers of our time, those who accept the REALITY that Truth is higher than opinion and are willing to speak it with clarity, courage and charity.
Now that you have discovered The Crusade, get 30 days for FREE of our premium service just head to:
OR download our FREE app:
https://apps.appmachine.com/theveritasradionetworkappIti-
Did you know about the Congress? If you are interested in supporting small business, be sure to check out the official store of the Crusade Channel, the Founders Tradin Post! Not to mention our amazing collection of DVD's, Cigars, T-Shirts, bumper stickers and other unique selection of items selected by Mike Church!
---
Reader's opinions
---