Poll: Solid Majority Of Voters Oppose Ending National Anthem During Sporting Events
Written by LoneRhody on 02/20/2021
Poll: Solid Majority Of Voters Oppose Ending National Anthem During Sporting Events
Via Just The News:
A solid majority of U.S. voters oppose any effort to stop the playing of the national anthem before the start of U.S. sporting events, according to a new Just the News Daily Poll with Scott Rasmussen.

Sixty-percent of respondents opposed such an idea, with 47% of those respondents "strongly" opposing it. Just 30% of voters favor ending the practice. The remaining 10% was unsure.

Calls to end the playing of the anthem have persisted for several years, in an effort to call attention to such social ills as racism and police brutality. Some National Football League players have chosen to kneel – or even stay in their locker room – during the anthem.

Rasmussen pointed out that the poll's cross-demographic tabulations show that "among the biggest sports fans – those who watch most days – 49% favor ending the tradition. And just 46% are opposed."

"One reason for this is that Democrats are both more likely to favor ending the tradition and more likely to watch sports," he said. "Overall, 33% of Democrats watch sports most days. Just 22% of Republicans and 14% of Independents do the same."

The survey of 1,200 registered voters was conducted from Feb. 11-13 by Rasmussen using a mixed-mode approach. The full sample has a sampling-error margin of plus or minus 2.8 percentage points.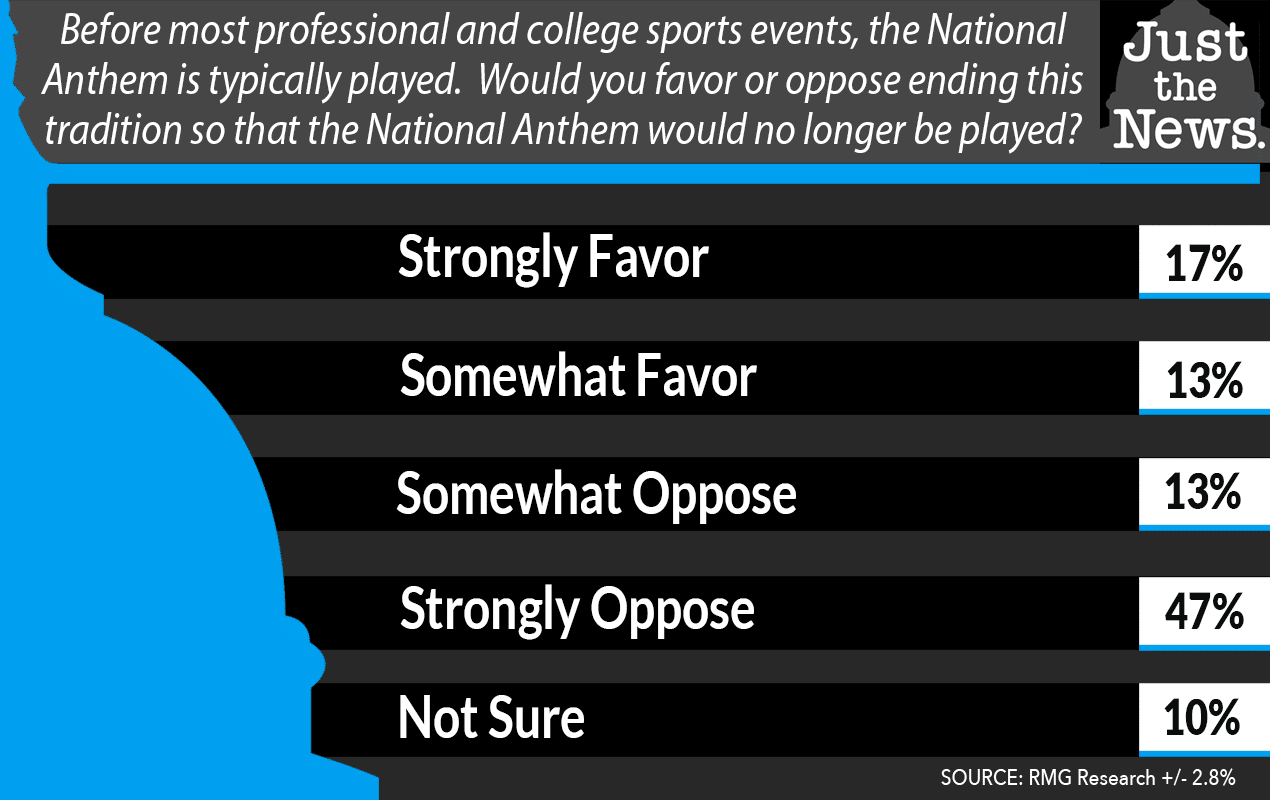 The CRUSADE Channel depends on its subscribers and supporters. Join the conversation and become a CRUSADER today. www.crusadechannel.com/chat
Click here to make a donation.
Click here to subscribe to The CRUSADE Channel's Founders Pass Member Service. www.crusadechannel.com/go
What Is The Crusade Channel?
The CRUSADE Channel, The Last LIVE! Radio Station Standing begins our LIVE programming with our all original CRUSADE Channel News hosted by Janet Huxley. Coupled with Mike "The King Dude" Church entertaining you during your morning drive and Rick Barrett giving you the news of the day and the narrative that will follow during your lunch break!
We've interviewed over 200 guests, seen Brother Andre Marie notch his 200th broadcast of Reconquest; the The Mike Church Show over 1200 episodes; launched an original LIVE! News Service; written and produced 4 Feature Length original dramas including The Last Confession of Sherlock Holmes and set sail on the coolest radio product ever, the 5 Minute Mysteries series! We are the ONLY outlet to cover the Impeachment of President Trump from gavel to gavel!
Now that you have discovered The Crusade, get 30 days for FREE of our premium service just head to:
https://crusadechannel.com OR download our FREE app: https://apps.appmachine.com/theveritasradionetworkappIti-
Did you know about Ex-Military? If you are interested in supporting small business, be sure to check out the official store of the Crusade Channel, the Founders Tradin Post! Not to mention our amazing collection of DVD's, Cigars, T-Shirts, bumper stickers and other unique selection of items selected by Mike Church!
---
---