Introducing The Best New Way To Listen To The CRUSADE Channel: The CRUSADE Content App!
Written by MikeChurch on 04/28/2018
NOTICE!!! The new CRUSADE Channel Content App does NOT replace the current CRUSADE Channel app, it is an enhanced app for downloading/listening to On-Demand content!!!
Mandeville, LA – The VRN Content App is now officially launched and the VRM v 3.0 is here. This totally new smartphone/tablet app puts the power of world-class content distribution and consumption into our avid fans hands. Here's how to start taking advantage of the app and its awesome content delivery features:
• Effortless updates of all shows-automatically
• Superb playback controls
• Build your own custom CRUSADE Channel playlists
• Program the app to download your faves when using wifi!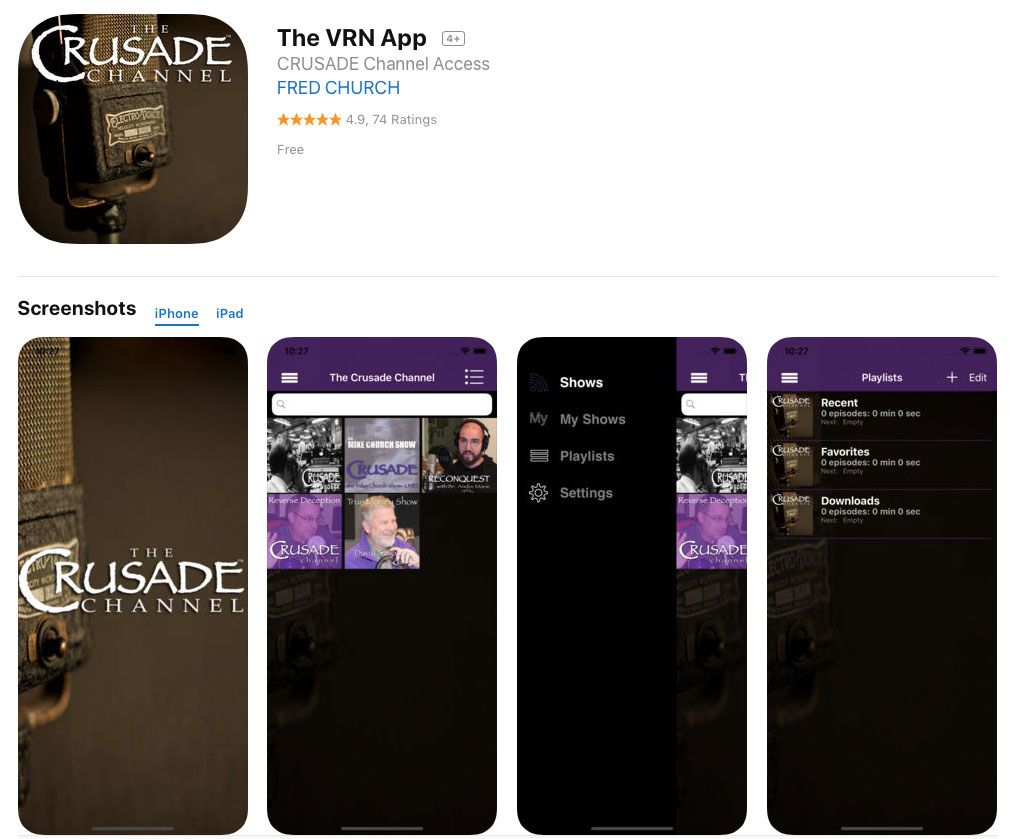 FIRST: YOU'LL NEED TO UPGRADE TO FOUNDING BROTHER TO UNLOCK THE FULL POWER OF THE CRUSADE CHANNEL CONTENT APP!
1. Download it for iPhones here: https://itunes.apple.com/us/app/the-vrn-app/id1373353510?ls=1&mt=8
Android download is here: https://play.google.com/store/apps/details?id=com.veritasradionetwork.android.radio
2. If you are a Founders Pass member at Founding Brother level or higher, DO NOT TRY AND LOGIN!! You'll need a new password FOR THIS APP.
3. Click the "Forgot my password" button and enter your Founders Pass membership-linked email address.
4. Check your email, click the reset link, reset your password, then go back to the app and login.
5. BAM!! Make sure you explore the preferences/settings features to customize your playback and recording/downloading preferences!
6. There is a handy "Help" button that the LibSyn folks manage to assist with any issues.
We'll be adding hundreds of shows in the coming weeks and of course all shows ready for download or On-Demand are now being loaded to this MAJOR upgrade.
Enjoy and make sure to show off/share the expanding selection of FREE Previews offered on the Preview block (this list will expand rapidly)!
---
Reader's opinions
---