Mike Church Letter To Representative Mark Wright – Louisiana's Governor John Bel Edwards Must Be Stopped
Written by MikeChurch on 04/10/2020
by Mike Church
UPDATE 3: Since Representative Wright seems to have found this page, I pray he and others will consider the actual FACTS of driving this autocratic tyranny. This is from Swiss Propaganda Research Doctor, please follow each link and verify for yourself, as I have done. You'll need to install google translate because many of the research papers are written in Italian and German.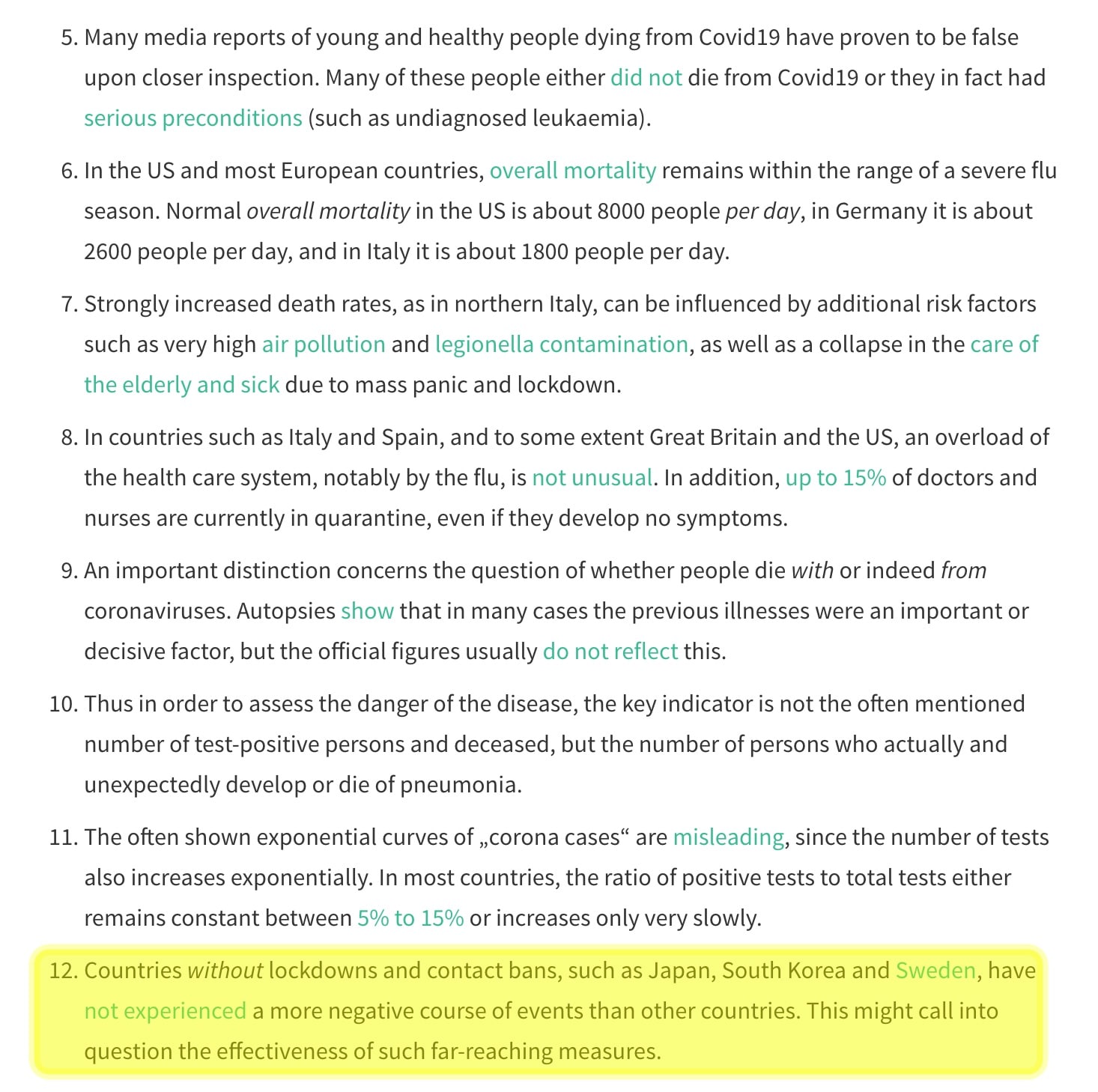 UPDATE 2: I have spoken with Representative Wright by phone, or more accurately, I was spoken AT by Rep. Wright, paraphrasing, he made two points.
I am not a good person because of the manner in which I published my letter and followup and I am trying to assail his reputation.
I am not concerned about the actual cause and this is a publicity stunt. "Good bye." Click.
I will respond to these claims on Monday's Mike Church Show but I believe the body of work, hundreds of extra hours researching the Covid-19 subject and reporting actual data, vindicate my motives and intentions and am perfectly comfortable letting readers and listeners make that judgement. A blessed Good Friday!
UPDATE: 4/10/20 Representative Mark Wright has responded and basically said "Citizen, you will OBEY your Federal and State overlords and stop publicly complaining, citizen!" Here's the response: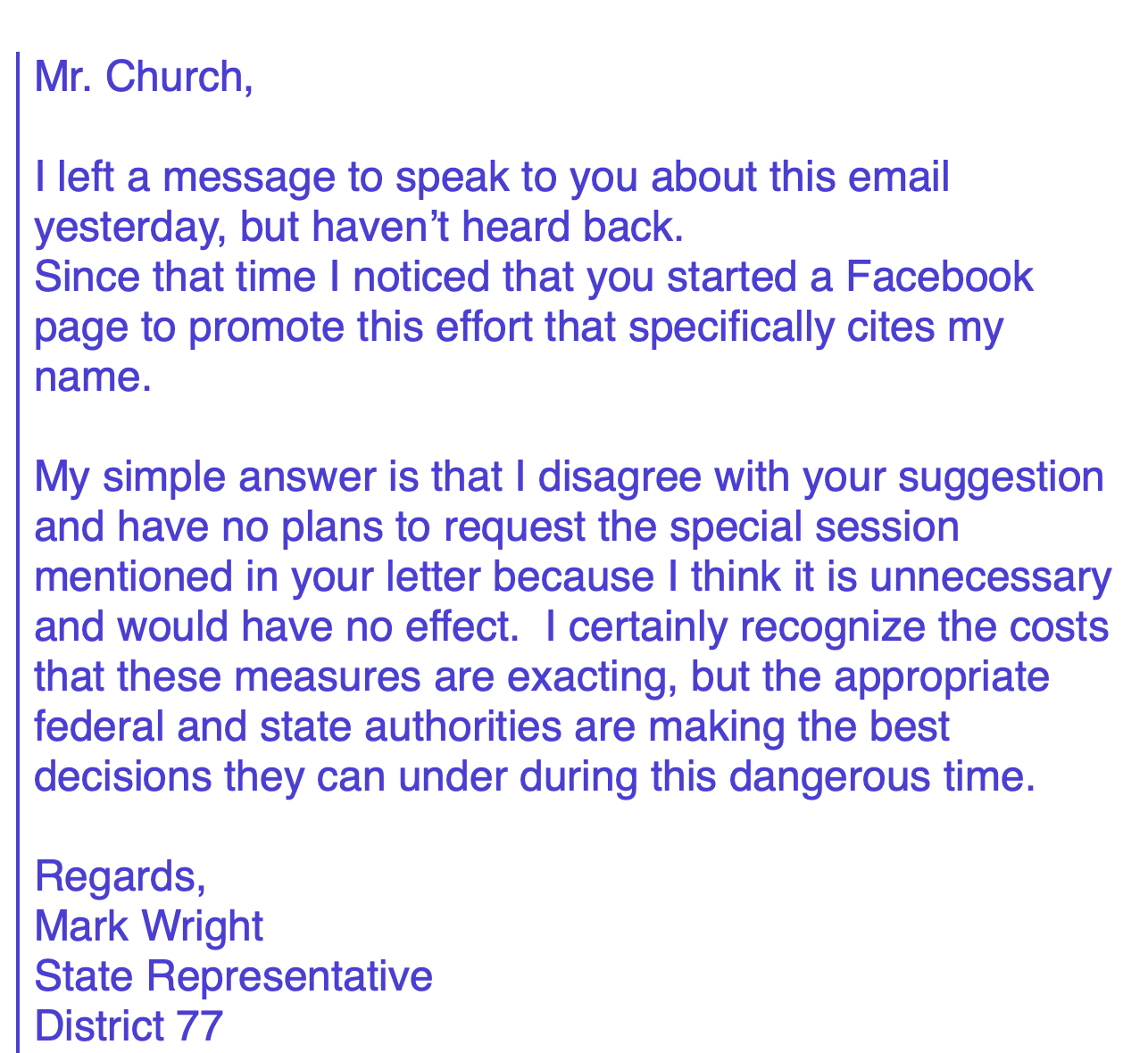 Ladies and gentleman, it seems that only The Federalists's Joy Pullman and I are alarmed by our governor's autocratic tyrannies and will write-broadcast about it. Below find my letter to Louisiana District 77 State Representative Mark Wright. Mark is my State Representative and I ask him to initiate specific actions against Governor John Bel Edwards. Joy, I implore you and every other citizen alarmed by what can only be described as a controlled demolition of our economy and communities by extension, to write and demand of your LOCAL and STATE representatives similar actions. This is our last chance to peacefully stop this obvious coup.
Dear Representative Wright,
I write to you today as a gravely concerned citizen, father of 3 and small business owner that resides in your district. Governor John Bel Edwards has used Louisiana Home land Security and Emergency Assistance and Disaster Act. La. R.S. 29:72 1 as the basis for his act. No one reading this act could come away with the clear understanding that when the legislature passed this act it was intended to grant their powers to the Executive for such an extended period of time.
B) Extraordinary Session. The legislature may be convened at other times by the governor and shall be convened by the presiding officers of both houses upon written petition of a majority of the elected members of each house. The form of the petition shall be provided by law. At least seven calendar days prior to convening the legislature in extraordinary session, the governor or the presiding officers, as the case may be, shall issue a proclamation stating the objects of the extraordinary session, the date on which it shall convene, and the number of days for which it is convened. The power to legislate shall be limited, under penalty of nullity, to the objects specifically enumerated in the proclamation. The session shall be limited to the number of days stated therein, which shall not exceed thirty calendar days.
The purpose of this session is for the republican legislature to consider the extended "lockdown" of nearly all commerce and
a. free association

b. freedom to worship
and to positively sign YOUR names to this ongoing autocracy in the affirmative or negative. John Bel Edwards is not the only politician in Louisiana who swore an oath to the Louisiana and U.S. Constitutions. This is your job as my elected representative. Under both Constitutions I am guaranteed (see attached) a "republican form of government"; living under the autocratic rule is not republican and it has gone on long enough.
I plan to use every media outlet and source I can to broadcast and promote this demand and encourage your constituents (and the rest of the state) to sign the online petition, demanding this tyranny end and common sense prevail before a bad flu season permanently ruins the good people of this state's livelihood and well being.
You may contact me directly at 985-XXX-XXXX.
May God bless and Mary keep you,
Our Lady of Prompt Succor, Patroness of Louisiana "Hasten to help us!"
Fred Mike Church
XXX Hxxxxx Xxx Xx.
Madisonville, LA 70447
LA 77 District
---
Reader's opinions
---