The Ruling Elites Have Decided: Only Total Destruction of Your Standard of Living Will Suffice
The Ruling Elites Have Decided: Only Total Destruction of Your Standard of Living Will Suffice
"There are lies, damned lies and statistics." – Samuel Langhorn Clemens
Well, it is now official, folks, after the Wall Street Journal Reported that 6.6 MILLION people sought unemployment benefits last week, which brings the Kung Flu total's devastation to a whopping 9.9 MILLION, many governor's reacted with scorn. Louisiana's Ruling Elites, including John Bel Edwards got back into the "I can drive my people to armed resistance" sweepstakes by using the eye popping 430 supposed Covid-19 deaths to extend his statewide ban on productivity and life to April the 30th!
To rub salt in the wounds his majesty John I has inflicted, he commandeered the mobile device based "SEVERE Emergency Alert" which blared out over a couple million devices, this horrifying message.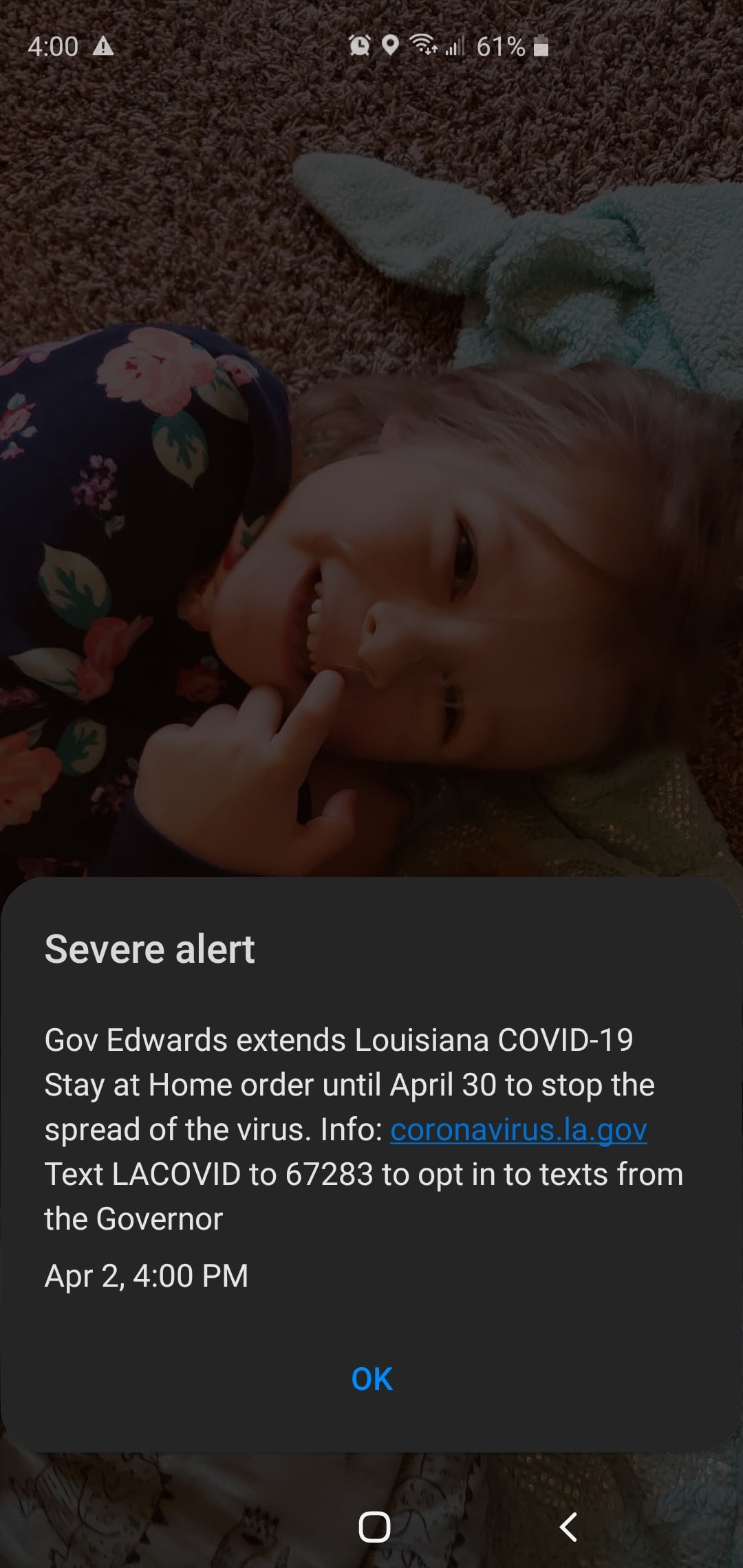 It is now clear that no amount of proportional reasoning or overwhelming evidence of fraud and data manipulation can stop this escalating tyranny of nearly every politician on earth. This brings me to ask the question: how do we know that on April 30th, if there are 8 people testing positive for CoronaHoax, Edwards won't declare another 30 days, hell for fun, why not just extend it to July 4th weekend and then for good measure, ban fireworks sales because they come from… China!?
Patrick Henry stood up in the Virginia House of Burgesses after a couple of 2-5% taxes had been sent from England and demand resistance, if that happened today, Henry would be turned in by his fellow Burgesses by calling the cops. Maybe we should think like Henry. After his heroic speech, the story goes….
Reaching the climax of a passage of fearful invective, on the injustice and the impolicy of the Stamp Act, he said in tones of thrilling solemnity, "Cæsar had his Brutus; Charles the First, his Cromwell; and George the Third [' Treason,' shouted the speaker. ' Treason,' ' treason,' rose from all sides of the room. The orator paused in stately defiance till these rude exclamations were ended, and then, rearing himself with a look and bearing of still prouder and fiercer determination, he so closed the sentence as to baffle his accusers, without in the least flinching from his own position,] — and George the Third may profit by their example. If this be treason, make the most of it."
We need some Patrick Henry's right now!
What Is The Crusade Channel?
The CRUSADE Channel, The Last LIVE! Radio Station Standing begins our LIVE programming with our all original CRUSADE Channel News hosted by 28 year radio ace, Stacey Cohen. Coupled with Mike "The King Dude" Church entertaining you during your morning drive and Rick Barrett giving you the news of the day and the narrative that will follow during your lunch break!
We've interviewed over 200 guests, seen Brother Andre Marie notch his 200th broadcast of Reconquest; the The Mike Church Show over 900 episodes; launched an original LIVE! News Service; written and produced 4 Feature Length original dramas including The Last Confession of Sherlock Holmes and set sail on the coolest radio product ever, the 5 Minute Mysteries series! We are the ONLY outlet to cover the Impeachment of President Trump from gavel to gavel!
The Crusade Channel is an open forum for the great thinkers of our time, those who accept the REALITY that Truth is higher than opinion and are willing to speak it with clarity, courage and charity.
Now that you have discovered The Crusade, get 30 days for FREE of our premium service just head to:
OR download our FREE app:
https://apps.appmachine.com/theveritasradionetworkappIti-
Are you sick of the Ruling Elites? If you are interested in supporting small business, be sure to check out the official store of the Crusade Channel, the Founders Tradin Post! Not to mention our amazing collection of DVD's, Cigars, T-Shirts, bumper stickers and other unique selection of items selected by Mike Church!
---
Reader's opinions
---