Catholic Priest To President Trump: Consecrate The United States To The Immaculate Heart of Mary!
Catholic Priest To President Trump: Consecrate The United States To The Immaculate Heart of Mary!
The CRUSADE Channel Exclusive
Consecrating America to the Immaculate Heart – really? By Mike Church,
The consecration of the United States to the Immaculate Heart of Mary? Fraternity of St. Peter priest Fr. Ian Bozant of The National Shrine of Saint Alphonsus Ligouri in Baltimore, MD has written to President Trump asking for just that.
In a letter dated Sept. 8 September 2020, previously reported to you here, Fr. Bozant does not specify how such a consecration might occur. This is especially so as there appears to be two obstacles to this happening. The first is that the consecration needs to be performed by a Catholic cleric. The second is more obvious, namely, that Trump is not Catholic – not yet anyway.
---
---
So the Crusade Channel spoke to Fr. Bozant to find out more.
Mike Church for The CRUSADE Channel (MC): Fr. Bozant, many of our listeners and followers on social media have asked the question: how would President Trump, a layman and not even a Catholic perform the consecration of this country to Mary, after all it is a "scared act," right?
Fr. Ian Bozant: Well it can be, but not in all circumstances. In much the same way as a father consecrates his home and family to Mary or the way a priest can consecrate his parish to Our Lady so the US President under his legal authority as America's leader acts as a "father" and could offer the consecration prayer on behalf of the nation as a "family".
MC: Is there a particular prayer of consecration that you would suggest, would you write one or, possibly, have you written one for the President?
Fr. Bozant: It would be the Act of Consecration to The Immaculate Heart of Mary on Behalf of The Human Race (see below).
MC: So why have you acted in this manner now? Many would consider it a bold move, to say the least, and one so close to an election too?
Fr. Bozant: I saw an opportunity. The whole reason the Catholic Church exists is to aid in the salvation of souls…to aid the conversion of souls to the True Faith. I saw an opportunity for the conversion of many, many souls to the Catholic Church.
Fr. Bozant is a young man of measured and carefully chosen words, as you can see he does not practice hyperbole. His simple answer is as concise as it is complete: Catholic Priests are primarily in the business of saving souls as Christ commanded them. In an era marked by the immediacy and noise of social media, it's a relief to find a priest who actually has the Church's mission as his sole mission, and in such a straightforward way.
Father Bozant recommends the Fatima Consecration Prayer for President Trump's Act, here it is.
Consecration To The Blessed Virgin (Fatima)
O MOST Holy Mary, Virgin Mother of God, Queen of Heaven and Earth, in accordance with thy wish made known at Fatima, I consecrate myself today to thine Immaculate Heart. To thee I entrust all that I have, all that I am, to thy blessed charge and special keeping and into thine Immaculate Heart. For this day, for every day of my life, and at the hour of my death, I commend my soul and body.

To thee do I entrust all my hopes and consolations, all my trials and miseries, my life and the end of my life, that through thy most holy intercession and thy merits all my actions may be ordered and disposed according to thy will, and that of thy Divine Son.

Reign over me dearest Mother, that I may be thine in prosperity, in adversity, in health and in sickness, in life and in death. Grant that I may have no other spirit but thy spirit, to know Jesus Christ and His Divine and Holy Will; that I may have no other soul but thy soul, to praise and glorify the Lord; that I may have no other heart but thy heart, to love God with a pure and burning love like thine.

My beloved Mother, my glorious Queen, I am all thine and all that I have is thine. Amen.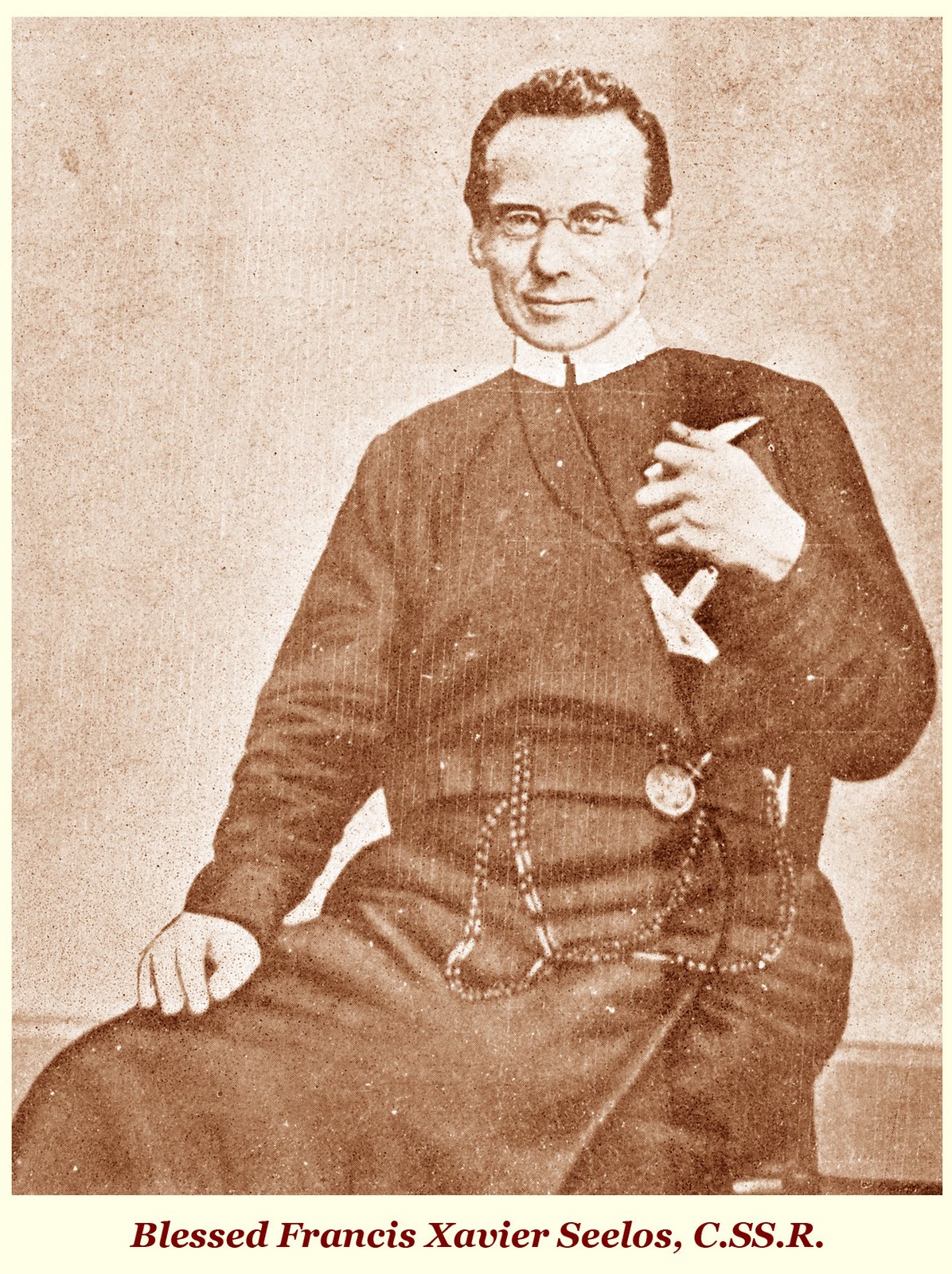 In our conversation several times Fr. Bozant mentions Blessed Fr. Xavier Seelos. That holy priest passed to eternal life on October 4, 1867, at the age of 48 years and 9 months while serving the sacramental needs of his flock in New Orleans during the Yellow Fever epidemic. I wondered if Fr. Bozant had some thoughts on the seemingly few Catholic priests who took their cue from this holy man's example who died "after several weeks of patiently enduring his illness"?
MC: Is there something missing from today's Catholic clergy during this "pandemic"?
Fr. Bozant: Yes. While it is prudent to take certain measures to protect priests [from Covid-19], what we're seeing now, for the first time in history [during an epidemic] is the Church and Her priests not being on the front lines. Unlike Blessed Seelos of New Orleans, a Bavarian immigrant who came to the United States to serve the growing Catholic population here. Or Saint Damian of Molakai who died of leprosy serving the lepers of Molakai. I think, on the whole, we have had a tremendous opportunity that we squandered.
MC: Many people have contacted me asking: how can anyone reach out to Trump, the womanizing, adulterer, foul-mouthed playboy? How would you respond to that?
Fr. Bozant: Many traditional Catholics have a tendency to let the perfect become the enemy of the good. They won't leave anything to God and Our Lady's Providence. We need to make cause with men like the president who have the public presence to help bring about the conversion of many, many souls.
MC: Father, can we close with a prayer that I accurately report this story?
Fr. Bozant: Yes! Let's pray and leave it in our Lady's hands?
MC: Yes, Father!

Fr Bozant: Hail Mary Full of Grace…
Amen.
What Is The Crusade Channel?
The CRUSADE Channel, The Last LIVE! Radio Station Standing begins our LIVE programming with our all original CRUSADE Channel News hosted by 28 year radio ace, Stacey Cohen. Coupled with Mike "The King Dude" Church entertaining you during your morning drive and Rick Barrett giving you the news of the day and the narrative that will follow during your lunch break!
We've interviewed over 200 guests, seen Brother Andre Marie notch his 200th broadcast of Reconquest; the The Mike Church Show over 900 episodes; launched an original LIVE! News Service; written and produced 4 Feature Length original dramas including The Last Confession of Sherlock Holmes and set sail on the coolest radio product ever, the 5 Minute Mysteries series! We are the ONLY outlet to cover the Impeachment of President Trump from gavel to gavel!
The Crusade Channel is an open forum for the great thinkers of our time, those who accept the REALITY that Truth is higher than opinion and are willing to speak it with clarity, courage and charity.
Now that you have discovered The Crusade, get 30 days for FREE of our premium service just head to:
OR download our FREE app:
https://apps.appmachine.com/theveritasradionetworkappIti-
Did you know about Catholic Priest? If you are interested in supporting small business, be sure to check out the official store of the Crusade Channel, the Founders Tradin Post! Not to mention our amazing collection of DVD's, Cigars, T-Shirts, bumper stickers and other unique selection of items selected by Mike Church!
---
---